Welcome to


Billericay Model Railway Group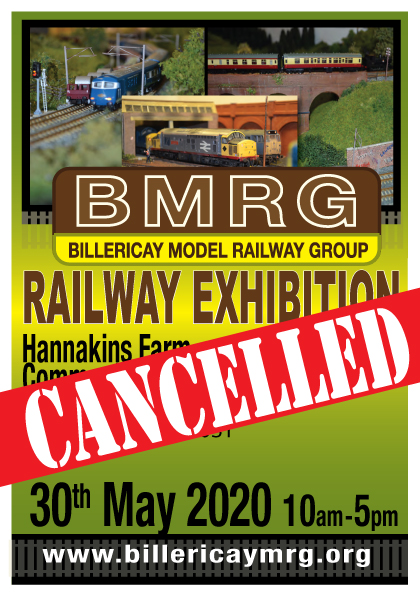 The 2020 Billericay Model Railway Group Annual Exhibition is now being prepared.
Please note: Due to circumstances beyond our control, the above date is different to that announced in the 2019 show guide and previously on this site.
Don't forget for the second year we have a location in Billericay, the address is:
Hannakins Farm,
West Billericay Community Centre,
Rosebay Avenue,
Billericay,
CM12 0SY

More details will be found here


We are a friendly group, known for working in N gauge, but we also have members working in 4mm (00 gauge and EM gauge), 7mm scales and even 5 inch gauge. We currently have 5 club layouts, Rusbury Basin (N gauge), Jakes Yard (00 gauge), Southcliffe (N gauge) and two layouts under construction, on in N gauge finescale and one in 00 gauge (School Lane).


The group was formed in February 2011 to build a layout that embodies our ideas on layout construction, and to have fun doing it. Rusbury Basin was the result. We are now working on other layouts in both N and 00 gauges.


We are looking for new premises to meet in. In the meanwhile check on this page for the location of the next meeting. Those interested in joining are welcome to attend (please note our minimum age is 18 years).

Meetings are held every Monday evening from 7:45p.m. at St John the Divine, Outwood Common Road, Billericay Essex. CM11 2LE Map Here.



Click Here to see details of our award winning Rusbury Basin N gauge layout.

Billericay Model Railway Group is pleased to announce that Rusbury Basin is now supported by Dapol.
We are also pleased to announce that Rusbury Basin is supported by John Dutfield of Chelmsford.


Rusbury Basin awarded Best in Show at the Letchworth Exhibition on 29th November 2014. Thank you Letchworth.



We are working on our next club layout, as yet unnamed. This is a modular layout built to N gauge finescale standards using British Finescale Finetrax track system. Click here to see more.



Jakes Yard, a minimum space 00 gauge layout, represents a small loco stabling facility somewhere in the north of England. This layout is now ready for exhibition. If you would like Jakes Yard to appear at your exhibition please e-mail us here.



Our members have built a private commission to N gauge. This has now been finished and delivered to the client. See how we did it.


We are now looking for new members. If you would like to be considered please apply using our contact form. We meet on Wednesday evenings and would be pleased to hear from potential members willing to take an active part.