Rusbury Basin is supported by Dapol and John Dutfield.
Follow Rusbury Basin on Twitter

The Story So Far
Construction
Exhibitions Attended
Show Managers Information
Gallery

Awarded Best in Show at Letchworth, 29th November 2014.
Designed specifically for exhibiting, Rusbury Basin is a 'Watching the Trains go by' layout designed to catch the attention of general visitors at shows.

Two double circuits depicting railways in rural settings, with working signals. Full length trains pass through trees and countryside with a large curved viaduct, a canal basin, warehouse and a disused Station.

Freelance, but with steam and/or diesel that would be seen in similar periods and regions. Can be run depicting most common railway periods.

The story so far
Before the railways, the major form of moving goods was the canal system. To collect and deliver goods around the area depicted a canal cut was made including a basin which was the distribution centre.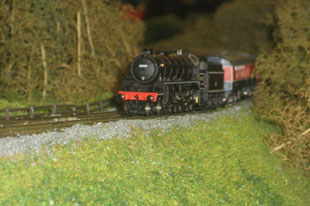 Some years later the 'railways explosion' took place, with at its peak, almost every village wanting to be connected to the railways, and many small lines were connected. These lines were similar to the routes used by the canals.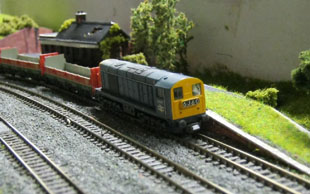 As the years passed, traffic flows altered, many lines were seen as 'uneconomic' and were closed or sold off. In our case, a new straighter 'high speed' line was constructed and the original track was relegated to secondary usage. The canal and warehouse found themselves without anything to transport, and as often happened, became derelict before becoming part of the leisure industry.
Construction
Our layout has been built to the 'space frame' style using lightweight materials. Having watched teams of grown men struggle to lift N gauge layouts in and out of exhibitions we decided that there had to be a better way. The result is our complete layout can be lifted by two people.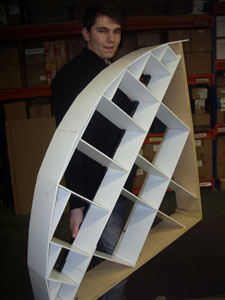 The main construction is built around 5mm foam board with rigid ply ends located with pattern makers dowels. A steel backbone has been inserted to resist undue pressures that may deform the landscape, creating a firm base on which to mount the finished items.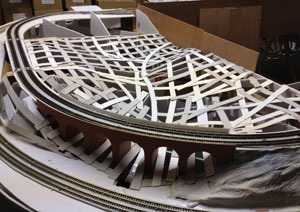 The track is laid on foam board 'T' sections to maintain rigidity. Our biggest problem is the layout blowing away in the wind. We believe this is the first layout of this size ever to be built in this manner.
Exhibitions Attended/Invited
7th/8th July 2012 Basildon Model Railway Club Exhibition
28th September 2013 Whitewebbs, Enfield
5th October 2013 Broadland MRC, Aylsham
3rd November 2013 Colchester MRC Exhibition
23rd/24th November 2013 Shoeburyness MRC Exhibition, Southend
26th April 2014 Mid-Kent MRG, Maidstone
10th May 2014 South West Herts MRS Exhibition, Watford
14th/15th June 2014 Chatham & District MRC
28th June 2014 Enfield Town MRC Exhibition
2nd August 2014 Deal
20th September 2014 Mid Essex MRC Exhibition
11th/12th October 2014 Wilmington
29th November 2014 Letchworth - Awarded Best in Show
17th January 2015 Brambleton Exhibition
25th/26th January 2015 Erith MRS
14th February 2015 Milton Keynes MRS
4th-5th April 2015 Turners Folly MRG Exhibition
25th-26th April 2015 West Essex Modelrail (Ilford & West Essex MRC)
23rd May 2015 Gravesend
11th July 2015 Sheredes School, Hoddesdon
17th October 2015 Tring and District MRC, Wing
31st October/1st November 2015 The London Theatre, New Cross
7th November 2015 Romford MRS
12th/13th November Chelmsford Library
21st November 2015 Royston & District MRC
14th February 2016 Bertha James Model Railway Exhibition, Bromley
26th March 2016 Galleywood Heritage Centre
9th April 2016 Luton MRC
25th June 2016 Braintree & Halstead MRC
16th July 2016 Frinton
3rd/4th September 2016 Gaugemaster Open Weekend
10th/11th September 2016 Faversham MRC
1st/2nd October 2016 Chelmsford Library Fun Palace Weekend
5th November 2016 West Sussex Area Group N Gauge Society Annual Show
26th/27th November 2016 Warley National Model Railway Exhibition
18th February 2017 Tonbridge MRC Exhibition
25th February 2017 Maldon Model Railway Exhibition
27th May 2017 St Osyth N Gauge Show
9th July 2017 Oxted Model Railway Exhibition
26th August 2017 Woodbridge Model Railway Exhibition
16-17th September 2017 Erith Model Railway Society Exhibition
8th October 2017 Museum of Power, Langford
21st January 2018 Witham Model Railway Exhibition
1st April 2018 Museum of Power , Langford
5th May 2018 Galleywood model Railway Exhibition
26th May 2018 Dulwich Model Railway Exhibition
6-7th October 2018 Folkestone , Hythe and District MRC

Show Managers Information
The Layout is:-

N Gauge, operated by members of the N gauge society.
14ft (4.27M) long by 7ft (2.13M) wide in 10 sections.
The layout is primarily operated from behind so requires (ideally) 14ft (4.27M) by 12ft (3.66M).
Ultra lightweight, Constructed from Foam Board & Plywood, extremely lightweight, quick and simple to erect and knockdown.
Single power supply required.
It can be operated by 2 but ideally 4 operators.
Attendance for expenses only.
It is equipped for full DCC operation.
Operational periods can range from early 1950s to yesterday.
For a copy of the Rusbury Basin Brochure Click here then save the file